IN the late 1950s, during the time of Jerry Cornell's presidency, the club decided to become involved in the promotion of speedway another source of entertainment for district motorcycle patrons.
Cornell suggested that Sunday night would be an ideal night as, apart from church, there was not much else to do on a Sunday during the summer.
Interestingly, the two major metropolitan speedway venues, Rowley Park', in Adelaide, operated on Friday nights and Brooklyn Speedway', in Melbourne, operated on Saturday nights. This suggested riders would be available for racing on a Sunday in Mildura.
Speedway became an immediate family success, with the club's existing riders doing well, but some new talent was also quick to emerge.
Meetings were held under lights on a Sunday night with riders like Ben Rigby, who rode all disciplines, Phil Sedgmen, Alex Nemstas, Rod Lyons, Keith Milne and Rob Grant being dominant in solos with Curly Carmes, Dudley Bradshaw, Bob King and Stan Nemstas leading the way in sidecars.
Alex Nemstas was the first to purchase a dedicated speedway machine, a 500cc single-cylinder ESO, the forerunner of today's current speedway machines. More locals started to ride speedway, but it was a lad from Cardross by the name of Phil Crump, riding his Greeves scrambler, then a DT1 Yamaha, followed by a Bultaco Pursang in club motocross events that caught the eye of Phil Sedgmen. Phil saw a talent, albeit raw, that was obvious.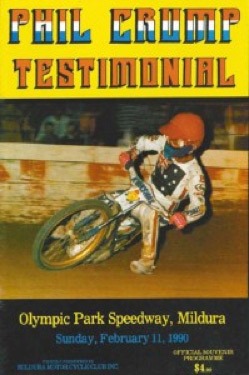 Sedgmen suggested that Phil have a go at speedway and offered his faithful and unique BSA speedway machine for Phil to try. Phil adapted to the sliding style and a stellar career was born.
As an apprentice, Phil did not have big resources, but he liked speedway so he bought a Jawa machine, which he rode regularly at Mildura. During the season, Phil often worked through each weekday lunch hour in order to leave work at noon on Friday to drive to Adelaide where he raced at the night meeting at Rowley Park.
Phil would then drive from Adelaide to Melbourne on Saturday to compete at Brooklyn before sleeping at Neil Street's house and travelling back to Mildura, in time to prepare his bike for Sunday night's race meeting at Olympic Park.
Street had also recognized Crump as a natural talent and being a professional speedway rider himself, arranged for Phil to get a ride in England.
In 1971 Phil left Mildura in early March to begin, what was to be a stellar career riding in British League speedway for more than 20 years. Crump led the way for many other riders from Mildura. He not only offered advice, he was also a provider and mentor for most of them at some time or another, often assisting with accommodation or bike parts or both.
Through Phil's endeavours, Mildura became widely regarded as a centre of excellence for speedway competition and tuition and Phil himself became known as the best rider never to win a World Championship.
Some of those early riders to follow Phil in 1976 were Tim Nunan and Yap Williams. They were followed, in the next few years by Terry Tulloch, Darryl Simpson, Des Allen and Chris Schmidt.
The club started the highly successful junior speedway program in 1989. It has produced some very professional young riders, preparing them for open competition nationally and in many cases their first taste of international competition. Names such as Leigh Adams, Jason Lyons, Nigel Alderton, Ryan Sullivan, Nigel Tremelling, Mark Lemon, World Champion Jason Crump, Jason Hawkes, Kevin Doolan, Travis McGowan, Chris Ferguson, Nathan Hedley, Cameron Woodward, Cory Gathercole and Tom Hedley. Many of them continue to make their living from the sport.
Many World Champions have ridden at Olympic Park since the early 1960s as well as some great Australians. Nine times World Champion, Ivan Mauger OBE, MBE, the Speedway rider of the Millennium tops the long and distinguished list and other names include Ole Olsen, Hans Nielsen, Tony Rickardsson, Anders Michanek, Per Johnsson, Peter Collins, Gary Havelock, Michael Lee, Mark Loram, Bruce Penhall, Sam Ermolenko, Greg Hancock, Egon Muller and most recently our own Jason Crump.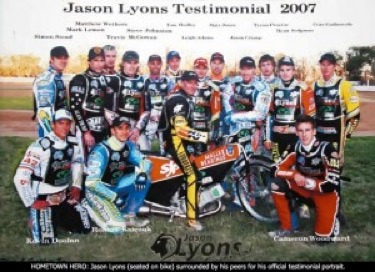 Great Australians included John Boulger, Billy Sanders, John Titman, John Langfield, The Bass', The Amundsens, Steve Baker, Glynn Taylor, Glen Doyle, the Butlers, Steve Regelling, Danny Kennedy, Rod Hunter, Todd Wiltshire, Craig Boyce, Shane Parker, Shane Bowes, Craig Hodgson, Ryan Sullivan and the current crop of riders, all of whom have had some experience at Olympic Park.
Two of Australia's greatest riders to call Olympic Park home are Phil Crump, with four Australian Titles and Leigh Adams, who so far has won a staggering nine Australian Championships.
Crump famously won his second title at the Sydney Showgrounds in 1975 on the new Street/Tighe SR4, the radical four-valve machine. Crump blew his fellow competitors away with the efficiency of the new technology. His form continued into Europe during the summer and Phil ended up with an excellent third in the 1976 World Championship, in Katowice, Poland, in front of 133,000 people, his best individual career result.
Phil joined with John Boulger, Billy Sanders, Phil Herne and Gary Middleton to win the 1976 World Speedway Team Cup.
Phil's impending retirement was honoured with a Testimonial meeting on February 11, 1990. A hugely successful meeting, it was packed with some of the world's greatest riders, including Hans Nielsen, Simon Wigg, Shaun and Kelly Moran and Jan Staechmann. They were all there to honour Phil. Ivan Mauger and John Boulger also rode at the meeting and were guest speakers at the Testimonial dinner the night before the race meeting.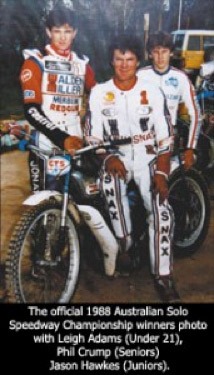 Phil had celebrated his great British League career with a Testimonial meeting at Swindon, UK in October 1983.
Like Phil, Leigh Adams, has spent a long time riding for the Swindon 'Robins' in the British Elite League. Adams has made Swindon his English home and is revered by the fans at Blunsdon. Leigh has been a massive collector of accolades on his speedway journey, with 3rd in the World GP in 2005 along with some 4th and 5th placings. Leigh was World Under 21 Champion in 1992 and has been the winner of four Czech Golden Helmet' events.
He is a multi-time team member of the winning Australian World Team Cup speedway Team and regularly averages over 10 points in British, Swedish and Polish League speedway. Leigh's nine Australian Championships have been ridden against some of very best of Australia's and the world's riders.
On January 27, 2007, the club honoured Jason Lyons with a Testimonial meeting. Jason has been a great servant of the club and always comes home from UK each year and rides for the club and takes part in normal club activities. A wonderful crowd attended the dinner and the meeting, which included all of Jason's Australian colleagues, including current World Champion Jason Crump as well as Jason's Belle Vue team-mate, Englishman, Simon Stead.
It was typical of Lyons that when the club was organising the program, Jason requested that there be sidecars in his meeting.
Mildura always has sidecars in its program, he said.
Currently there are seven club members riding professionally in England for the 2007 British League season. This is an unprecedented number of riders originating from one place and whilst some don't seem to agree, there must be something being done right at Olympic Park.
Australia has had amazing success winning the Ove Fundin Trophy or World Speedway Team Cup in recent years. On the last three occasions four of the five winning members of the Australian team started their careers in Mildura. Leigh  Adams, Jason Crump, Ryan Sullivan and Jason Lyons, have been joined, by either Craig Boyce or Todd Wiltshire, when the team has been successful.
Meanwhile, the advent of multi-cylinder Japanese road motorcycles saw sidecar speedway flourish, with some significant design and geometry changes improving the performance and handling of machines.
These improvements have been a great boost to the spectacle and popularity of three wheeled speedway. Large capacity (750cc) two-stroke and more responsive four-stroke machines saw the demise of the old English marques.
Notable names in the Olympic Park sidecar 'hall of fame' during the earlier years included Bob King/Col Leak, Darryl  Rolfe/Lindsay Buchecker, Baden Millward/ Mick Bourke, John Gates with Greg Carter, then Col Leak, then Les Gates and finally Rick O'Brien. Gates worked the theory that the fastest and shortest way around was on the pole line and he was a great exponent. Rob and Grant Kemp always waved the Broken Hill flag proudly.
Later era names that will be familiar to many include Clarry Jones, with either Peter Marriage or Les Gates, Murray and Alex Zoch, Shane Soutter/Rob Renwood, Glen Hough/Rob Armstrong, Dave Curran/Evan Davies, the great Andrew Cleave/Dave Power, Glenn and Nathan O'Brien as well as Darrin Treloar/Justin Plaisted, right up to the current time.
Mildura has continually developed a good base of Sidecar riders, with Jason Bradshaw/Simon Cohrs, Jayden Mayes/Klae Hobbs, then Jaeben Underhill, Byren Gates with Deven Gates, then, Dean Keeble and now Todd Gates,  Deven Gates/John Willcock, Danny Bell/Matt Bell and then with Brad Baker, who is now on side with Brett White, Peter Burton/ Nick O'Brien, Clint Mayes with Danny Mayes or Mark Lucas and Wayne Atherton/ Brendon Johnstone as well as Broken Hill's team of Rick Howes/Adam Commons.
Passengers, or the good ones, have something special bout them. Over a long period of time the best at Mildura would include Col Springa' Leak, Evan Davies and in more recent times Brad Baker. These three, in particular, seemed to be able to get on with anybody and ride as though they were part of the machine, a special skill.