THE Mildura and District Motor Cycle Club started as a contest between two riders and two bikes to determine which was the faster. The showdown was driven by a young local rider, Don McKechnie, who, in late 1946, became the proud owner of a 500cc Ariel Red Hunter.
McKechnie regularly attended the weekly dances at Mildura's Old Mill, operated by local motor trader, George Winton, who was also the local AJS, Velocette and Triumph motorcycle dealer.
McKechnie was not backward in coming forward when it came to extolling the virtues of his beloved Ariel over the machines that Winton sold and continually made his opinion known.
This went on for some time before Winton began to tire of it and decided that a new Triumph Speed Twin, recently sold to Dick Bennett, and ridden by his employee, Alan Melville, would be just the ticket in a match race to shut McKechnie up. Melville had had some race experience and with some fine-tuning to the Triumph, completed in Winton's workshop, the race was arranged, secretly.
A point-to-point match race was suggested in February, using part of the Calder Highway, near Carwarp.
It did not remain a secret for long and on the day a large crowd turned out to watch the show.
The Triumph, with the experienced Melville on board, clearly won the four-lap race, but it kickstarted something else.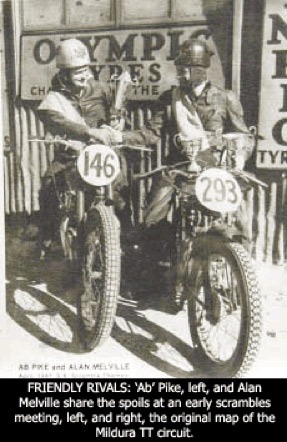 The local interest in motorcycling was keen and on the June 24, 1947, a meeting of 35 enthusiasts was held at Winton's Motor Showrooms and the Mildura and District Motor Cycle Club formed.
George Winton was elected president and Jack Greville secretary. Winton, with other foundation members, Alan Melville, Jerry Cornell, Graham Ward and Max Robinson formed the executive of the Club through the early years.
The competitive spirit was strong amongst the young club members and they regularly stripped their road machines of lights and number plates to conduct scramble events in the bush around Mildura or for a gymkhana at the Old Aerodrome ovals.
Fundraising too was a priority and at the suggestion and approval of a Mr Mackay, then District Forestry Officer, a site was chosen, adjacent to the riverbank at Johnson's Bend, to build a scramble track so as a charity event could be held to aid the Lord Mayor's Holiday Camp at Portsea.
It was timed for a week after the local football finals had been played to bolster the chances of a good crowd. Excellent spectator support was a feature of those early club events with public enjoying a raft of activities including novelty, gymkhana and scramble events held on a regular basis across the district.
The Club became a stalwart supporter for a number of worthy causes and members quickly became proficient at event organisation and soon interstate champions were including Mildura on their regular list of tracks to visit and compete.
Riders to do well in these early events were John Seymour, Snow DeBoo, Graham Ward, Alan Swingler, George Maddams, Alan Melville, Max White, Jack Greville, Jerry and Doug Cornell, Keith Curtis, Len Ah Gee, Ron Olson, John Birch, Ab Pike and Don McKechnie.
Following each club event, a presentation and fellowship function would be held at the premises of Jack Sloan, the BSA dealer in Seventh Street. This business later became Pike Motors and then Phil Crump Honda following his retirement.
Membership soon reached more than 100 and strict membership guidelines ensured that club members also became good community citizens.
Club meetings at this time were held at the 'Old Mill' and club members regularly competed away from Mildura, with Pike, Alan Melville, George Winton and Jerry Cornell doing particularly well in road racing and scrambles at Woodside, Victoria Park, Ballarat, Mt Gambier, Bathurst and at Fisherman's Bend, Melbourne.